The Illuseum Berlin - The best idea for a school excursion!
Große und kleine Schüler freuen sich, wenn sie Spaß auf ihren Schulausflügen haben. Lehrer und Eltern wünschen sich, dass die Kinder etwas lernen und dass der Ausflug eine sinnvolle Aktivität war mit langanhaltendem Lerneffekt. Da kommt das Illuseum Berlin als perfekten Ziel für Schulausflüge gerade richtig! Denn hier wird Wissen mit Spaß und Entdeckung vermittelt: Im Herzen Berlins gelegen und in unmittelbarere Nähe zum Fernsehturm ist dieses Berliner Museum nicht zu übersehen und nicht zu unterschätzen!
What is there to experience here?
Die zahlreichen optischen Täuschungen, die kniffligen Knobelspiele und die interaktiven Stationen werden den Schülern und Lehrern beweisen, dass die eigene Wahrnehmung individuell und unsere Sichtweise manchmal doch sehr eingeschränkt ist. Es geht im Illuseum Berlin nicht um Recht und Unrecht, sondern um Spaß und die Frage der Perspektive. Die Schüler dürfen sich auf verblüffende Exponate, Illusionen zum Mitmachen und interaktive Räume freuen, wie den Vortex Tunnel, unser Kaleidoskop und unzählige weitere optische Täuschungen, die darauf warten erforscht zu werden.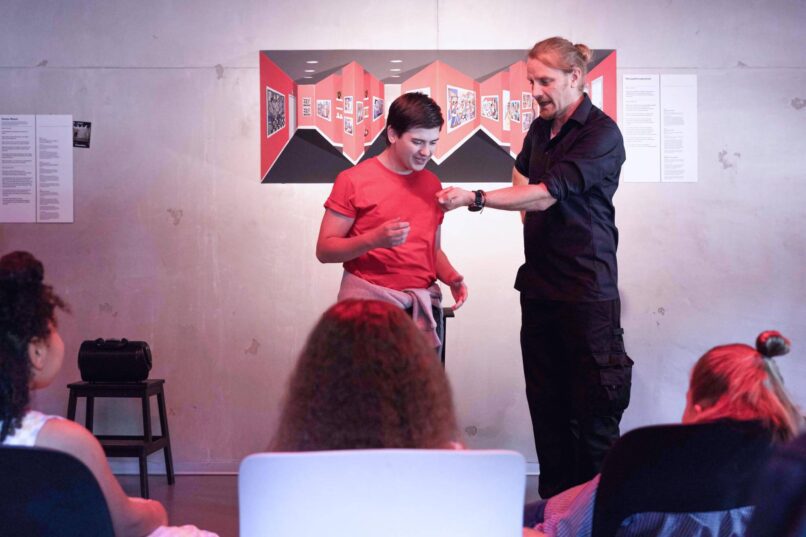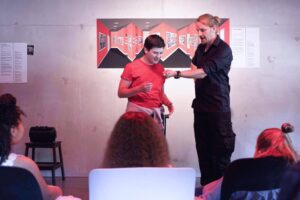 How to plan the best excursion for school?
During the simple online booking you can choose between a school trip with or without a guide. The school excursion will be a success in any case! Each guided tour is individually tailored to the group on site, so that age-appropriate entertainment is guaranteed. So even dry subject areas, such as mathematics, physics and geometry, can be taught here in an entertaining way and suddenly become really exciting for the students. At the end of the visit, many teachers also take away tips on how to make their lessons more appealing: For example, puzzle games are a good way to use your own logic instead of simply learning the school material by heart.
Jede Führung wird vor Ort individuell auf die Gruppe abgestimmt, sodass eine altersgerechte Unterhaltung gewährleistet ist. So können hier selbst trockene Themengebiete, wie Mathematik, Physik und Geometrie, auf unterhaltsame Weise vermittelt werden und für die Schüler plötzlich richtig spannend sein. Viele Lehrer nehmen am Ende des Besuchs auch Tipps mit, wie sie ihren Unterricht ansprechender gestalten können: Knobelspiele eignen sich zum Beispiel, um die eigene Logik einzusetzen, anstatt den Schulstoff einfach auswendig zu lernen.
Beyond the school trip: The Illuseum Berlin as an event venue
Beyond the successful school trips, the Illuseum Berlin is also often used as a venue for corporate events in Berlin. If you are looking for an extraordinary and very central location for your corporate event in Berlin, the Illuseum Berlin is the right place. An inspiring atmosphere is created here surrounded by countless amazing and amusing optical illusions and loosens up the guests. This venue is suitable for corporate events of all kinds: classic company events, such as Christmas parties, team building events, press conferences, product launches and company outings. There are no limits to the imagination and the location can also be transformed into a magical place for extraordinary events. In that case, the guests will leave the Illuseum Berlin amazed and amused. They will learn more about their own senses and perception. The in-house illusionist Jan will turn their heads with his close-up performance of magic art and his humorous way, so that this event will be an unforgettable experience for everyone.
Wer auf der Suche nach einer außergewöhnlichen und sehr zentralen Location für seine Firmenveranstaltung in Berlin ist, der ist im Illuseum Berlin genau richtig. Eine inspirierende Stimmung entsteht hier umgeben von unzähligen verblüffenden und amüsanten optischen Täuschungen und lockert die Gäste auf. Dieser Veranstaltungsort eignet sich für Firmenfeiern aller Art: klassische Firmenveranstaltungen, wie Weihnachtsfeiern, Teambuilding-Events, Pressekonferenzen, Produktvorstellungen und Betriebsausflüge. Der Fantasie sind auch hier keine Grenzen gesetzt und die Location lässt sich auch in einen magischen Ort für außerordentliche Events verwandeln. In dem Fall werden die Gäste verblüfft und amüsiert das Illuseum Berlin verlassen. Sie werden mehr über ihre eigenen Sinne und die Wahrnehmung erfahren. Der hauseigenen Illusionist Jan wird ihnen die Köpfe verdrehen mit seiner Close-up Performance der Zauberkunst und seiner humorvollen Art, sodass dieses Event für alle zu einem unvergesslichen Erlebnis wird.