Step into the world of illusions and let yourself be inspired by our variety of optical Illusions During your journey of discovery through our museum, you will encounter various categories of illusions, which we will now introduce to you in a little more detail. During your journey of discovery through our museum, you will encounter various categories of illusions, which we will now introduce to you in a little more detail. If it's the Vortex Tunnel, the Ames room or unbelievable holograms. There is something for everybody, and plenty of fun is guaranteed.
Interactive Illusions
at the Illuseum Berlin
Our interactive illusions can be experienced and photographed perfectly. If you need help with this, our friendly staff is always at your disposal.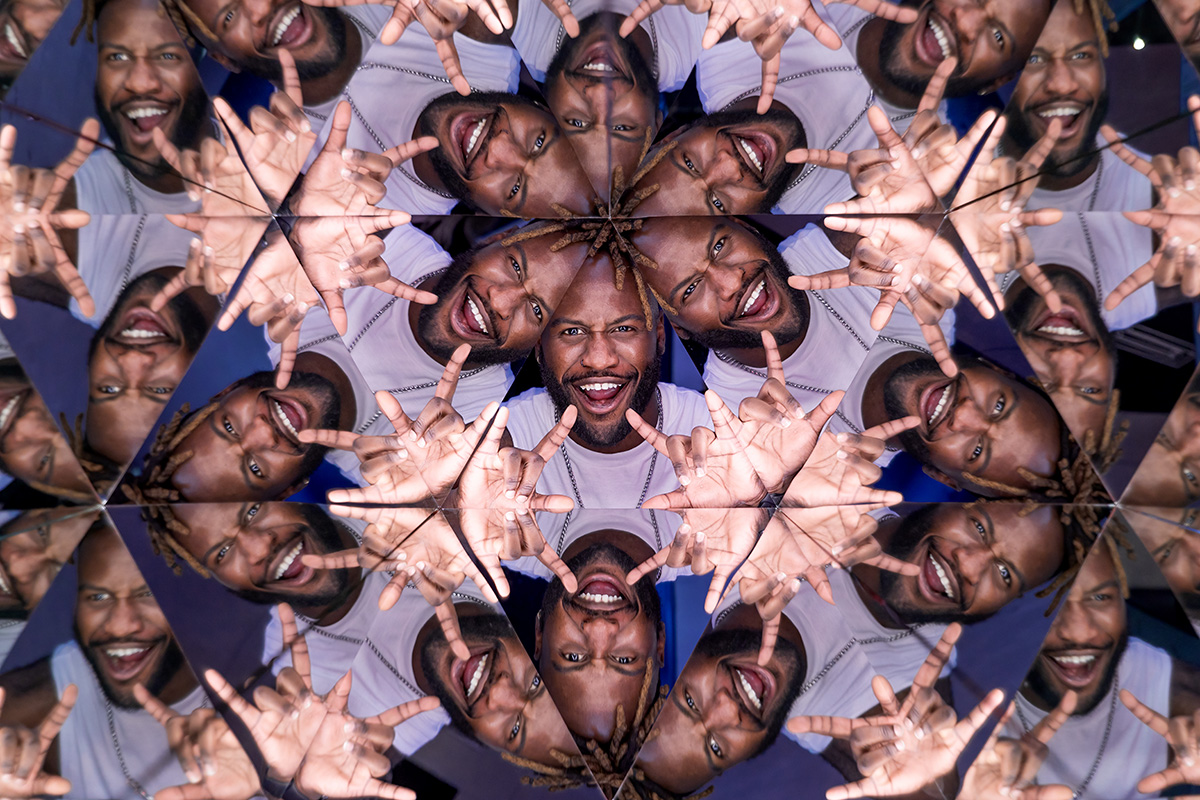 Eine der ältesten Illusionen ist das Kaleidoskop, welches auf eindrucksvolle Art beweist, wie man mit dem richtigen Einsatz von Spiegeln und Winkeln die eigenen Sinne täuschen kann. Versuche doch mal zu zählen, wie viele Gesichter du siehst, wenn du bei uns vorbeischaust. Das Wort Kaleidoskop stammt übrigens aus dem Griechischen und bedeutet "schöne Formen sehen".
Our bravest visitors will dare to enter the Vortex Tunnel, where they will quickly lose the ground beneath their feet. Here, heads can be turned without even falling in love. Although you will be moving across solid grounds, the spinning cylinder will make it difficult for you to move around. Come by and see for yourself.
Games, of course, play a big role for us too. At our Illuseum, you will find various gripping wooden games that are known to have caused a minor mental breakdown or two in the past. If you are looking for a challenge, you can try out the mechanical puzzle Tower of Hanoi. Legend has it that the monks in Hanoi also had to stack one rod's tower onto another one, without ever stacking a larger disc onto a smaller one. Sounds simple, doesn't it? Even if somebody knows exactly what they're doing, it still takes 25 minutes and 512 moves to complete the task. Have fun trying to break the record. This is especially suitable for curious minds that want to expand their horizons.
Another very popular category of illusions can be discovered in three interactive rooms at our museum. They are the perfect scenery for great entertainment and amazing photos.
Inside the Ames room, distorted walls and textures are used to create some incredible effects. Something small quickly turns into something huge. This room is not only funny for the people inside, because viewers standing on the outside can watch as their companions turn from dwarfs into giants in no time. The ophthalmologist Adalbert Ames originally developed the effect to prove that for monocular viewing, people use their past experiences in order to process depth information. He'd probably be surprised to hear that his idea is being used for movies like Lord of the Rings, as well as for the personal entertainment of our countless visitors every day.
Our tilted room will have you question everything you ever knew about gravity. You'll know what we are talking about once you're inside.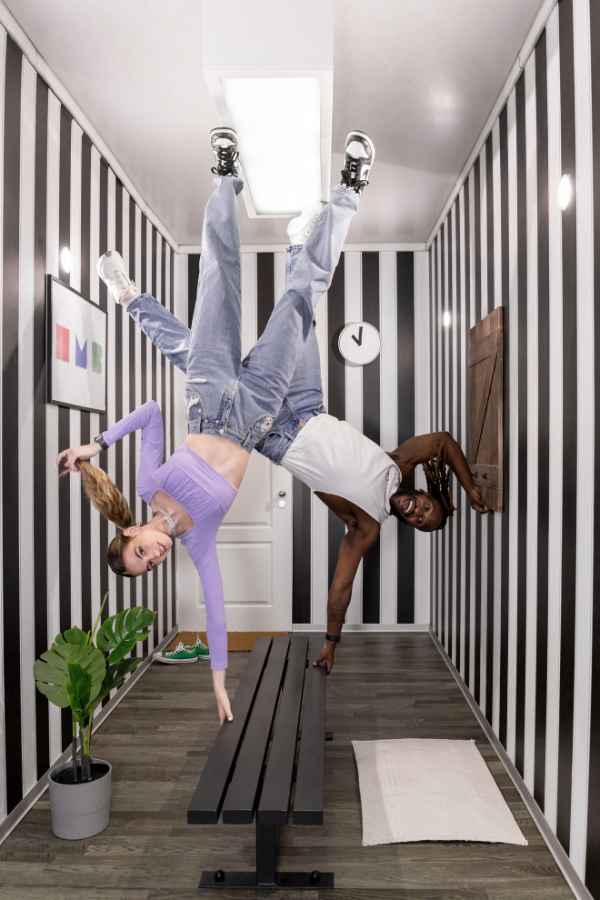 If you have always wanted to hang down from the ceiling like Spider Man, our reversed room is just the one for you! Crazy photos are guaranteed. However: Don't forget to rotate the photo before sharing it.
Our last category, exhibits, are static illusions that will have you staring in disbelief. But don't give up hope, our informational signs explain each effect in detail. So, a visit with us is not only fun, but also educational. With the help of gadgets like Shephard tables, you will learn all about geometry, physics and math – without falling asleep during the course of it.
And that isn't all. Prepare yourself for our Head on a Plate, the Mirror of Truth, the Beuchet chair, incredible holograms, and many more breathtaking illusions. We look forward to your visit!